200+ interviews and case studies focused on driving forward the Global Sustainability Agenda. Guests include Paul Polman, David Lynch, Siya Kolisi, Cherie Blair, Bob Moritz, David Miliband and Julia Gillard. Hosted by Alberto Lidji, ex-Global CEO of the Novak Djokovic Foundation and Visiting Fellow at the University of Cambridge's Judge Business School -- based at the Centre for Strategic Philanthropy. Visit our knowledge hub at Lidji.org for personalised recommendations on the best episodes for you.
Episodes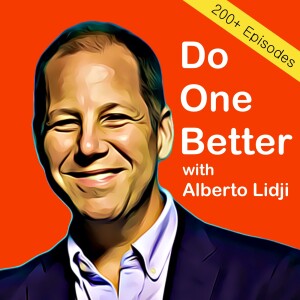 Monday Jun 27, 2022
Monday Jun 27, 2022
In light of so many indicators pointing in the wrong direction, what can we do with the resources and powers at our disposal to tackle the food crisis and drive forward improved nutrition? 
This conversation provides clear suggestions and insight for philanthropists, business leaders and policymakers alike -- the case for improved nutrition has never been stronger.
Thank you for downloading this episode of The Do One Better Podcast. Visit our website at Lidji.org for information on nearly 200 interviews with remarkable leaders in philanthropy, sustainability and social entrepreneurship. Please leave us a rating and a review to help others find this show.