200+ interviews and case studies focused on driving forward the Global Sustainability Agenda. Guests include Paul Polman, David Lynch, Siya Kolisi, Cherie Blair, Bob Moritz, David Miliband and Julia Gillard. Hosted by Alberto Lidji, ex-Global CEO of the Novak Djokovic Foundation and Visiting Fellow at the University of Cambridge's Judge Business School -- based at the Centre for Strategic Philanthropy. Visit our knowledge hub at Lidji.org for personalised recommendations on the best episodes for you.
Episodes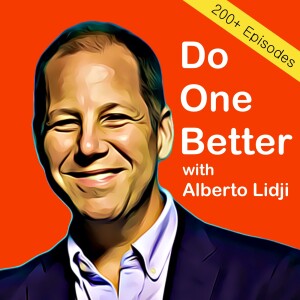 Monday Jul 18, 2022
Monday Jul 18, 2022
Unhealthy environments have been linked to a range of significant health risks to children, including premature birth, stillbirth, increased lifelong risk for brain and behavioural problems, respiratory disorders, cardiovascular disease, cancers, dysfunction of hormonal and reproductive systems, and more.
Globally, more than 1 in 4 childhood deaths under 5 years of age are attributable to unhealthy environments—a statistic that will continue to rise as climate change magnifies the world's most important environmental risk factors.
While environmental health risk factors are clearly leading causes of child illness and death in Asia, country-specific, systematic data needed to develop approaches to improving children's health and reducing, minimising, and preventing environmental risk factors is often lacking. 
We learn how Children's Environmental Health Indicators (CEHI) can fill the data and knowledge gap in children's environmental health; enabling tracking, assessment and reporting on the status and impacts of climate and the environment on children's health as well as the evaluation of environmental interventions and policies.
Thank you for downloading this episode of The Do One Better Podcast. Visit our website at Lidji.org for information on nearly 200 interviews with remarkable leaders in philanthropy, sustainability and social entrepreneurship. Please leave us a rating and a review to help others find this show.